Finding Inspiration in Every Turn
The family business, Monstri ehf, was established in 2011, located in Iceland, the capital area.
My name is Alma Björk and I am the owner of Monstri ehf, the company established around the IP Skrimsli. I am a mother of three, an entrepreneur at heart and love my job! I have a diploma in finance and a BA in business & marketing.

It was in the middle of the financial crisis in Iceland. I was working in a financial institution after just having arrived from my studies in Denmark. We were a family of four and just bought our first house, which had yet to be finished. The Icelandic krona decreased rapidly and payments on our house went over the roof. Things were getting pretty tough in our little island in the middle of the Atlantic Ocean. And what do you do when crisis happens? You either give up or you fight. Well, I chose to fight!
​
After a road trip around Iceland I stopped in Vik, a small country town on the south of Iceland to stay with a friend. In an act of craziness, we went to a wool manufacturer in town to buy wool as we wanted to make some sweaters for us and our children. Neither of us had ever done any kind of sewing before!
​
This was the beginning of my adventure. I started to saw and since my products were looking really good I put them for sale in a craft gallery my parents own. Sales took off and soon I was sewing all evenings and weekends as well as working in a bank during the day. The extra income was greatly appreciated during the harsh times in the Icelandic economy.
What to do with leftover fabrics?
As leftover fabrics piled up I found it a waste to throw them out. I wanted to make something useful with them. It was then the first Skrimslis were sewn. I used the leftover wool and also old clothes which I cut down for limbs. They looked funny and people loved them! By this time they were sold in over 10 stores across Iceland.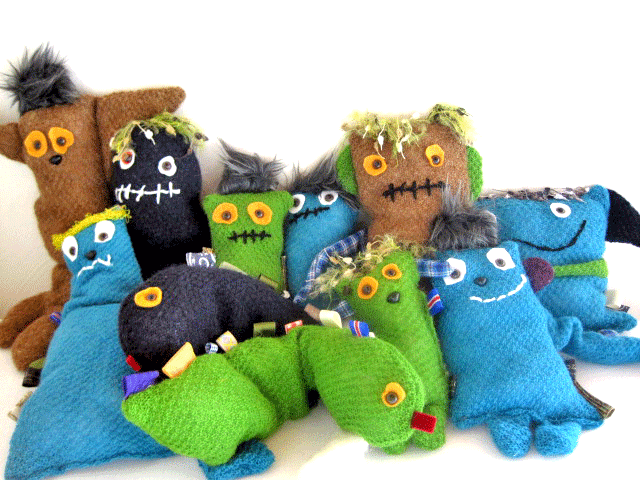 Recycling for environmental protection
The demand for the Skrimslis increased and soon I was buying leftover fabrics from a local wool manufacturer and a local fabric store. I wanted to keep my production integrated in environmental protection and recycle as much as I could. By this time I was working full time sewing Skrimslis!
My kids and other family members started helping out with the production - it was truly becoming a family business!
Exhi
bitons
2011 we participated in our first exhibition "Crafts and Design Fair" in Reykjavik City Hall. Participating was a great exposure for the Skrimslis and we have since participated in several different shows and exhibitions in Iceland, France and Japan.
The launch of our first book
2017 we published our first book about the Skrimsli which was co-written by me and an Icelandic writer "Eyrún Ósk Jónsdóttir". The book tells the story of how the Skrimslis came to be, and how due to technology they were suddenly forced to leave their homes, and for the first time in their lives prepare for the cold, harsh winter of the north on their own.
You will find your Skrimsli in these stores